The Good Stuff
Poems
Nature
by Stephen Pray
Length: 9 lines

Listen ...
Voice: Denise Marshall
Add Original Music ...
"Glitched"
Instrumental

Written & performed
by Sky
"Drifting Memories"
Instrumental

Written & performed
by Taylor Dean
Taylor is 9 years old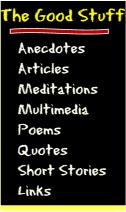 Nature
A tiny webbed rainbow glistens
A sigh softly cried
Does any one hear, listen.

A leaf slowly falls
Deep in the forest
Its quiet whisper lingers.

A shaft of sunlight
Follows the dust motes.
And warms itself in the grass.


Forest Path
Buy this Art Print at AllPosters.com



Reviews (applause received)

Shanu Goyal India
"Your poem is very beautiful. It gives a sort of relaxation to tired body and mind. The very thought of mother nature and its adventures hidden makes me spell bound."

Denise Marshall United States
"I listened to your composition along with my narration of Stephen Pray's poetic simplicity, "Nature"; the three of us are an awesome trio, if I do say so myself! Your music added the perfect mood and magic. When I read your bio and learned your age, I was pleasantly amazed! You are very talented, Taylor, and I look forward to hearing many great things from you in the future. And, when I do, I'll proudly declare, "I once worked with Taylor Dean!" Please continue to grow and give joy and pleasure to the world. How fortunate we are to have you in it. Bravo!

Be the next to review this poem - click here.