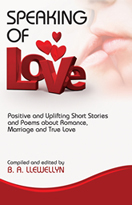 - Speaking of Love -
positive and uplifting
short stories and poems about
Romance, Marriage and True Love.

If you're in love with love,
then join the club -
everyone who wants a brighter day and a brighter world belongs to the exact same club
and we're all looking for ways to make our hearts sing and our eyes shine.

LUCKY for us,
Speaking of Love
manages to do both.
Give yourself or
someone you care about
a real treat and read
Speaking of Love now.
You deserve it.
You deserve to feel wonderful.
You deserve
to feel wonderful right now.

More information ...


Barbara Llewellyn
as Meg in
7 Little Australians

7 Little Australians
Young Ramsay
The Box
Class of '74
Want to know more
about Barbara?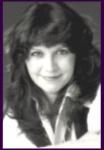 Barbara Llewellyn

Click "Play" to listen to Barbara's soothing voice.
Barbara Ann Llewellyn
Showbiz Childhood Photo Gallery
---
Photo:
An old newspaper clipping of Barbara and Jack Davey


Jack Davey was a superstar of Australian radio in the 1950's and Barbara, at the age of 5 was the winner of his Christmas talent show. Barbara was the youngest contestant of the night and had fallen asleep because she was left till last to perform. She yawned as she waved at the audience and won their hearts before beginning to sing and winning a trip for two anywhere in Australia, a fully decorated Christmas tree and a doll almost as big as herself.

---
Barbara looks so angelic in this 1950's Woman's Weekly magazine Christmas advertisement for dairy products.


She remembers how disappointed she was to discover that all the food was sprayed with hairspray to make it look fresher, and was most definitely not meant to be eaten.

---
Barbara appeared in the landmark Australian movie, The Sundowners with Deborah Kerr,

Robert Mitchum and Peter Ustinov.

Ms. Kerr and a 7 year old Barbara were captured in this photo, on the film set in Central Australia, as Ms. Kerr taught Barbara to play "Here is the Steeple".
---
June Bronhill (the much loved and sadly missed world famous soprano) was Maria and Barbara was Brigitta in the original Australian production of The Sound of Music at The Tivoli Theatre in Sydney.

Photo:
The Von Trapp children (Barbara is the one in plaits) looking over the railing at Maria and Father.


Website designed by Bak2Bak Communications Pty Ltd