Featured Product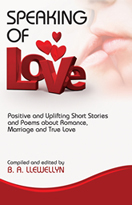 - Speaking of Love -
positive and uplifting
short stories and poems about
Romance, Marriage and True Love.

If you're in love with love,
then join the club -
everyone who wants a brighter day and a brighter world belongs to the exact same club
and we're all looking for ways to make our hearts sing and our eyes shine.

LUCKY for us,
Speaking of Love
manages to do both.
Give yourself or
someone you care about
a real treat and read
Speaking of Love now.

More information ...

Welcome to the Bright Light Multimedia

Online Book Store

---

Speaking of Love
Book

Positive and Uplifting Short Stories and Poems about Romance, Marriage and True Love.
More information ...

Paperback - $21.95 USD
plus $4 USD p&h worldwide


---

Married and Loving It!
Book or eBook

If enjoying a glorious, lifelong marriage is important to you, then this positive, easy to read book is an essential.
More information ...

Book
$15.50USD + p&h

eBook Download
$11.25USD

International
delivery

Australian
delivery
---

Letters to Michael
Book or eBook

A Visionary novel from author, B. A. Llewellyn. Letters to Michael tells a story of life, death, and what happens "over there". More information ...

Book
$15.50USD + p&h

eBook Download
$9.95USD

International
delivery

Australian
delivery

---